History:
Established since 1998.
Over 40 years of general plumbing experience and over 20 years of trenchless technology experience. We are a family owned company who still believe in the use of a handshake before talking business. After learning the plumbing industry since the 80's, Ed (Tom) Richards established his plumbing company in 1989 and completed general plumbing throughout Northern California. Meanwhile, over in Europe, trenchless technology was becoming more popular for repairing pipe without damaging their old historic buildings and streets. Richards learned more about the trenchless industry and brought the technology to the West Coast in 1998.

Pipe Coating History:
In 2014,Richards created the "EpoxyBot", the only pipe coating system world wide made to repair or rebuild pipe internally under 6″. In 2016, the "EpoxyBot" evolved into "The Pipe Coater" with new design and performance upgrades. Some changes include a offset skid, new spray head, headed hose, among other performance upgrades. It also switched from using Epoxy material to 100% Polyurea, a material which is stronger and cures much faster and is NSF-61 approved for potable drinking water that can be used on sewer,water and gas lines. A major benefit with this system is that you no longer have to worry and stress over a collapsed liner or stretching into the city main line, and having to buy expensive reinstatement cutters! Pipe Tech USA continues to create new trenchless technologies and has become an reputable pipe repair company operating for residential, commercial, and industrial sites throughout the World.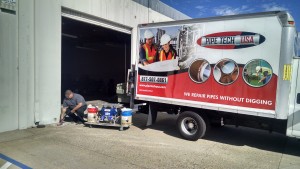 Mission:
At Pipe Tech USA, our mission is to repair pipes with the intention to save the environment as well as your budget. Our process uses 97% less pollution than the conventional method and stops raw sewage from entering our streams and lakes. Approved by the National Sanitation Foundation, our practices have been used for drinkable water lines, food processing plants, and wineries and many other types of industries. Our trenchless technology is green for the environment and requires less man power which saves you money.
Clients:
PG&E, Shell oil refinery, Valero oil refinery, Abbott Laboratories, Hospitals, Restaurants, Cinemark/Century movie theaters, Pebble Beach golf resort, El Dorado casino resort, and United States Navy. We have also worked on thousands of homes throughout the Western United States. It doesn't matter how big or small the project is, Pipe Tech USA will be there to repair/rebuild!
Fun Projects:
We have been called on projects for PG&E because they couldn't dig on native American Indian burial grounds in rural California near Yosemite. Built in 1919, Pebble Beach golf resort in Monterey had over 100 feet of missing pipe under their kitchen located in their lodge's basement. The Navy had corroded pipes on the USS Fitzgerald a Missile Cruiser and USS McCluskey a Destroyer docked in San Diego. And many others just to name a few. We enjoy what we do and look forward to more interesting and successful projects!