Camera inspection process:
At a time convenient to you, our certified Camera and Cleaning technicians arrive at your home or business to inspect what is causing the problem. During the pipe inspection process, we can show our client the broken pipe on our HD camera screen and explain how your pipe became damaged. Tree root damage, old corroded pipe, and offset joints are all visually detectable with our camera inspection. We also provide a precise measurement of the cracked pipe or missing portion. We offer camera inspections throughout Northern California including: San Francisco, San Jose, Oakland, Sacramento, and all surrounding areas. Call (877) 507-0861 today for a free quote!
After the sewer inspection is complete:
Sewer Pipe Cleaning:
A simple cleaning is all your sewer pipe may have needed. Our high powered hydro-jetters can spray off corrosion and wash away debris. We also have the strongest and most versatile snake machine on the market which can tear through even the thickest of tree roots. Our pipe cleaning machine with variable speed can clean and descale pipe from 1/2″ – 36″ up to 200′ in length and will go around 90° bends.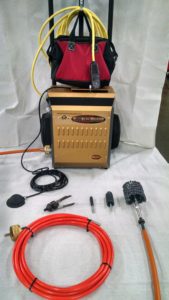 Preventive Maintenance:
If cleaning the pipe won't be enough for an efficient flow, then we have two forms of Trenchless Technology which can repair your pipe without digging. Internal pipe coating and pipe lining both have unique benefits which guarantee a long lasting pipe, no matter your budget!
Camera Inspection Benefits:
Free camera inspection with each sewer cleaning
3 month warranty on cleaning
10% discount on our Trenchless Technology services
Trenchless Technology Services
If you have any questions, feel free to contact us for information or a quote.
Call us by phone for immediate service!
(877) 507-0861