Grease Trap Repair done right the first time.
Don't Replace, Rebuild:
Using high grade fiber and epoxy, our certified team comes to your location to custom build a new structure inside your broken grease trap. It does not matter if there are holes or corrosion! The new structure functions at the same dimensions of the preexisting grease trap and operates as good as new. We only use the highest quality materials. Our structure is corrosion and chemical resistant, so strong it comes with a lifetime warranty! This newly sealed tank can be built without having to jackhammer, dig, and replace. Our patented method allows you to pay less than replacing your grease trap and keeps your business open during our quick operation!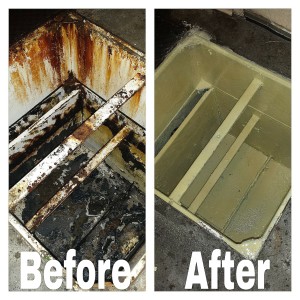 Broken P-Trap?
The cast iron in P-Traps for floor sinks and floor drains rot out due to soda or alcohol. Our repair process also works for P-traps no matter how corroded or rotted away.
Here's how our service works:
After the tank has been pumped, we clean and prep the surface
Measure inner surface of grease trap
Cut industrial grade fiber to proper measurement
Soak fiber with industrial grade epoxy
Roll fiber onto surface
3 hour cure time
Done!
Benefits:

Lifetime warranty included
No digging or jackhammering
More cost effective than replacing
Quiet and fast process, stay open for business during repairs
Safe for drinkable water and environment (NSF 14 & 61 Approved)
Seals holes, cracks, and corrosion or no tank left
Trenchless Services
If you have any questions, feel free to contact us for information or a quote.
Call us by phone for immediate service!
(877) 507-0861