Pipe Coating is the best option for your pipe repair needs.
How it works:
Our certified trenchless technology experts arrive at your location to for camera inspection and diagnostic. Furthermore, we will also advise you for the best repair option available for your specific situation.
Internal Pipe Coating:
Our internal pipe coating process uses The Pipe Coater, a state of the art trenchless technology machine. It will clean and coat the pipe internally by entering through a clean out. The Pipe Coater is able to slide through small diameter pipe, maneuver around 90 degree turns and offsets, and spray the interior of the pipe (up to 250 feet per entrance) with 100% polyurea. Furthermore, The Pipe Coater can coat from 100 mils – 300 mils in one pass and is NSF-61 approved for potable drinking water. Also, it has a high chemical resistance and is abrasive resistant. In addition, it also has a high temperature and pressure rating. Polyurea will set and cure in 10 seconds, unlike the traditional repair which can take weeks to dig and replace!
Home and business owners can now take advantage of the new technology and have their pipe internally or externally coated! Currently, we are the only company world wide to offer internal pipe coating down to a 2 inch size. We take pride in our work and we understand the need for more cost effective alternatives for pipe repair. Save money, time, and your landscape or structure!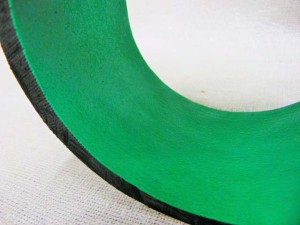 External Pipe Coating:
Our internal and external pipe coating services can be completed by using industry leading Polyurea material. Polyurea is a truly remarkable technology which can be used to coat all type of pipes, steel, cast iron,asbestos,concrete structures, tanks, and a wide variety of applications. Polyurea cures and sets in an extremely fast rate of only 5 seconds. Consequently, your business or project can be back up and running in minutes! These applications of Polyurea have been widely proven and accepted by oil refineries, food processing plants, wineries, restaurants and many other building structures nationwide.
Pipe Coating VS Pipe Lining
Which trenchless technology process is better? There are many pros and cons to both sides. Here are a few advantages pipe coating offers which, pipe lining cannot.
 Pipe coating has no risk of miss measurements or stretching into city main line.
 Pipe lining is prone to having collapsed liners.
 Pipe coating has no risk of blocking laterals or other pipes connected to the sewer main. Blocking other pipes can cause major problems if a technician doesn't see the opening during the camera process.
The need for expensive reinstatement cutters.
Can coat internally and externally.
Benefits:

Improves flow efficiency.
Seals seperated joints and cracks.
Corrosion protection.
Erosion prevention.
Chemical resistant.
Abrasion resistant.
Thermal resistant.
Moisture insensitivity.
Ecologically friendly.
More cost effective than conventional.
10 second set time.
Product Data Sheet
Safe for drinkable water and environment (NSF 14 & 61 Approved).
Withholds up to 200 psi.
Works on any size 2″ to 24″, and 300′ feet in length.
Customizable coat application.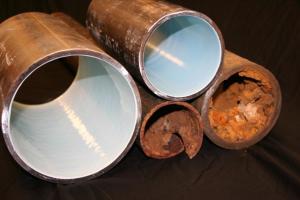 Trenchless Services
If you have any questions, feel free to contact us for information or a quote.
Call us by phone for immediate service!
(877) 507-0861